Kawasaki KLE 650 F Versys ABS 16 Řetězová sada s řetězovými koly Afam a řetězem DID ZVM-X Super Heavy Duty X-kroužek zlatý
[AG1355]
Na obrázku dole je/jsou Řetězová sada s řetězovými koly Afam a řetězem DID ZVM-X Super Heavy Duty X-kroužek zlatý. Na našich stránkách najdete tisíce dalších náhradních dílů za velmi příznivé ceny.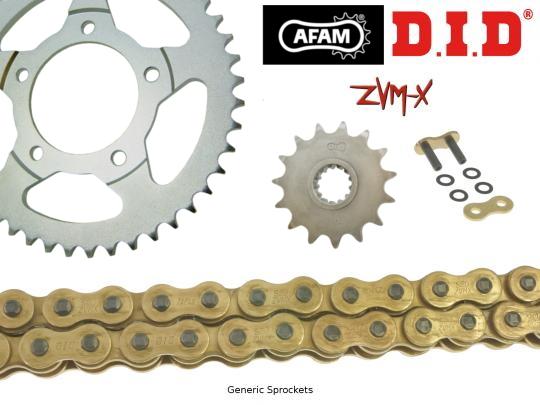 Chain and Sprocket Kit
Contains:
DID 520 ZVM-X Super Heavy Duty Drive Chain - Standard Length
AFAM Front Sprocket - Standard Tooth Size
AFAM Rear Steel Sprocket - Standard Tooth Size
A rivet link is included with the drive chain
DID ZVM-X Super Heavy Duty X-Ring Chain
DID's ZVM-X Chain uses patented X2-ring seals. Like O rings, X rings function to seal in lubrication and keep dirt out, and for the ZVM range the X rings have been redesigned to offer even greater wear resistance and even less friction than DID's original X rings.

Where the cross-section of an O ring is circular, the cross-section of an X ring is X or cross-shaped. This gives the seal additional contact points compared to the O ring, offering superior sealing and protection against dirt and grit getting stuck under the seal.
In addition, when under pressure an O ring becomes squashed and causes friction. An X ring, when under pressure, diverts this pressure by twisting instead, so an X ring decreases friction between side plates and reduces power loss by 50% of any other type O-ring chain.

DID's X rings have 40% greater wear resistance than their regular X ring chains (the VX range) and 34 times that of a DID standard chain. This means more resistance to stretching, bowing and warping and smoother handling. With proper maintenance, an X2-ring chain will last longer than any O-ring or unsealed chain.
Specification
| Pin Length | Roller Diameter | Plate Thickness | Weight | Tensile Strength | Colour |
| --- | --- | --- | --- | --- | --- |
| 21.00 | 10.22mm | 2.2mm | 1.63kg per 100 links | 38.9KN | Gold and Gold |
Sealed chains require lubrication every 500km (300 miles) in order to prevent surface rust and ensure performance.
AFAM Sprockets
Designed and engineered in Belgium, AFAM is a world-class brand of sprocket and is the OEM choice of Kymco, Norton and others.
AFAM uses high-quality steel in both its front and rear sprockets. Its rear sprockets are CNC machines and produced in C45 normalized steel.They feature induction-hardened teeth, for reduced wear. They are then plated in either a silver (zinc) or black (electrophoresis) colour, to suit the original and to help protect against corrosion.
Related Products for DID and AFAM Chain and Sprocket Kit
DID ZVM-X drive chains are always supplied 'open' with a rivet link (included). You will need a specialised tool in order to rivet the chain, or take it to a mechanic who can do it for you. A spring link is available, but a spring link has only 65% of the strength of a rivet link and therefore, a rivet link is always recommended.
It is important to periodically inspect and lubricate the chain to maximise chain life.
Workshop tools and consumables

Všechny ceny jsou v Koruny (CZK) včetně DPH 21%. Pro objednávky odesílané mimo EU bude DPH odečteno u pokladny.